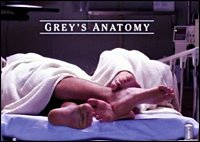 Yesterday I watched
Grey's Anatomy
on TV. It was the
15th episode of the 3rd series
. This episode had very very dramatic ending [the most dramatic ending of all episodes I have ever seen] and I was very very curious how it will continue.
But the Christmas next week. And these episodes weren't on Czech TV yet. Really delicious situation.
Primarily I wanted to watch
La Reine Margot
, because:
a) the movie seemed interesting,
b)
Vincent Perez
plays
La Môle
in this movie. I have weakness for him since he played in the
Indochine
.
But I needed to see the next episode od GA!
So, promptly I got the 16th episode. I was watching GA on my notebook and occasionally I looked at La Reine Margot on TV.
But...the
16th episode
had much more dramatic ending than the 15th episode had. What could I do? It was 1am, but I really needed to see how it will continue.
So, promptly I got the 17th episode and the 18th episode for sure.
Happily on the 17th episode it turned out well. At 2am I could go to bed.
But today's getting up was very troublesome.