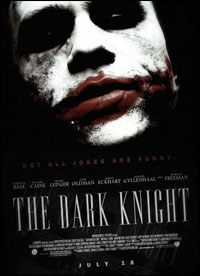 I need to organize my mind.
The movie is inconsistent for me:
- everything indicate this is a perfect movie
- I was not excited a lot
- I'm pleased to see anyone rated it ***, ** or * on
CSFD
[Czechoslovak movie database]
- despite of these things I can't stop to think about it
IMDB 92,1%
[
the 3rd best movie
]
The 3rd best movie
, get it? Better than
Pulp Fuction
or
One Flew Over the Cuckoo's Nest
!
In collate with
Stardust
,
Hot Fuzz
,
Lucky Number Slevin
or
In Bruges
for the last time the Dark knight have not got more than 3*.
Just to be fair: for yesterday's unfavourable watching conditions the movie will get the second chance as the part of
Nolans
Batman movie afternoon.