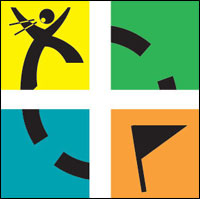 On Tuesday I and the other Cats [the Secret friend of us and her sister nicknamed Cinderella] decided to not to stay at home on Thursay [today,
8th May is a bank holiday in Czech republic
] but to go
geocaching
. So we have created an account on
geocaching.com
as the team named Brotherhood of the cat paw [the Brotherhood of the cat paw is from the Czech well known adventure stories and comics about the
Rapid Arrows
].
So.
Today we borrowed Martin's PDA with
geocaching PDA software
and a map and took a paper with a caches description and a
map of caches printed from geocaching.com
.
Hum. The software was unavailing because it was impossible to catch signal. And when it finally happens, the PDA shutted down. Fortunately we had the description and the map on papers and the Secret friend of us, too. With all of that the caches was, except
this one
, always finded. Nevermind. The last one we will try to find again, but this time it will be at night [without all bystanders] and we will invite to finding our boyfriends to help us.